CELEBRATE LOVE
WEDDINGS AT THE ZERMATTERHOF
A WONDERFUL DAY
Your Wedding Celebration in the Zermatterhof
We have some very special offers for your big day because, just as love should last for an eternity, so should the memories. You will experience absolutely unforgettable moments in the Grand Hotel Zermatterhof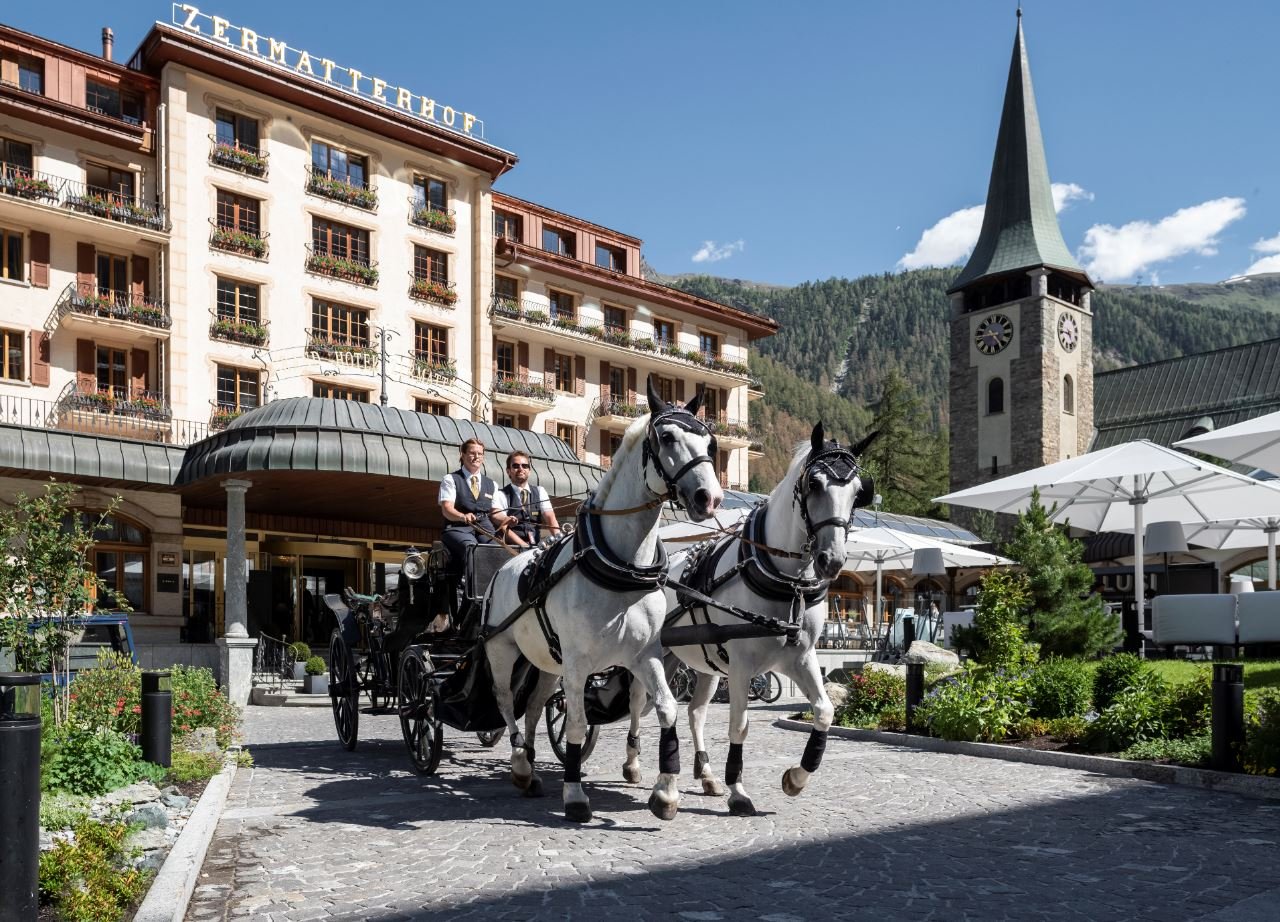 Wedding packages
You have the choice between three different packages:
Wedding package Gentian CHF 190.– p.P.
Wedding package Alpine Rose CHF 260.– p.P.
Wedding package Edelweiss CHF 340.– p.P.
Example: Wedding package Alpine rose
Aperitifs
Regional white and red wine; beer, orange juice; Mineral water and soft drinks
Puff pastry fingers, 3 canapés, ¼ Valasian platter
Your aperitifs will be served to you over a time period of 1.5 hours.
Dinner
You will be served a delicious seasonal four-course meal, created by our chefs.
As a highlight of the evening, we will serve you a glass of Champagne together with the wedding cake.
Drinks during Dinner
Regional white and red wine (½ bottle per person), beer, mineral water and soft drinks, coffee and tea
Services included
Decorations and flowers
Bar tables for the drinks reception are decorated with the traditional Grand Hotel Zermatterhof flower arrangements. Standard floral decorations are also placed on the tables for dinner.
Horse-drawn carriage with two horses
The horse-drawn carriage to the church for the bride and groom is provided by the Grand Hotel Zermatterhof at no extra charge. Please note that the carriage is not decorated.
Honeymoon room
The overnight stay on the wedding night is free of charge for the bride and groom courtesy of the Grand Hotel Zermatterhof. Breakfast is included. We offer a double room as standard. The room category is subject to availability on the given date.
Equipment
The use of technical equipment in the Matterhorn Room, such as a microphone, video projector and screen, is free of charge.
Drinks reception on the terrace
The drinks reception can also be held on one of our terraces, weather permitting.
Further services included
Printing of personalised menus with the official corporate design of the Grand Hotel Zermatterhof • White covers for the bar tables and chairs • Cloakroom for your guests
Additional Services
Cheese Buffet
Our chef will be pleased to create a cheese buffet for you for an additional charge of CHF 18.–.
Dessert Buffet
If you would prefer a dessert buffet to a selected dessert, we will be happy to arrange this for an additional charge of CHF 16.–.
Open Bar
If after an excellent meal you would like to celebrate into the small hours, we are pleased to recommend our Open Bar at a price of CHF 45.– per person and hour. The price includes gin, vodka, whisky, cognac, Ramazzotti, rum, Amaretto, Tequila, Abricotine, Williamine, Kirsch, Grappa, mineral water and all your soft drinks.
Midnight surcharges
Midnight surcharge of CHF 65.00 per employee per commenced hour.
Floral Decorations
For floral decorations on the tables, please contact Zermattflowers on + 41 27 558 80 44. They will also be pleased to assist you with the decoration of the carriage (from CHF 80.–).
Infrastructure
A fee of CHF 450.– is charged for setting up a dance floor and stage for a band.
Special price for overnight stays for your guests
We offer a reduced rate for overnight stays for your guests in the Grand Hotel Zermatterhof. Ask us about current prices and availability.
Upgrade to a suite for the wedding night
Enjoy your wedding night in one of our suites for the special price of CHF 1,000.– per night. Subject to availability.
Your Day
Plan your wedding with us
We would be happy to provide you with advice. Please call us on: +41 27 966 66 00 or send us a message.